Full-Face Snorkeling Masks: Pros And Cons
During recent years, full-face snorkeling masks have been steadily gaining popularity worldwide. This type of mask feels more natural to many snorkelers since it offers the ability to breathe through your nose (rather than your mouth as with traditional snorkels).

It is also well received by beginner snorkelers, who prefer to have their entire face protected from contact with water.

However, there are those who are skeptical about the concept or even raise concerns about the safety of full-face snorkel masks.

So, in this article, we cover not only the pros and cons of using full-face masks for snorkeling, but we also came up with our picks of the top reliable full-face snorkeling masks by top experienced and reputable manufacturers in the market.
Table of Contents
PROs of Using a Full-Face Snorkeling Mask

CONs of a Full-Face Mask

Safety Concerns

What This Means to You as a FFSM User

Top 4 Reliable Full-Face Snorkeling Masks

How to Score Ideal Sizing When Choosing

Frequently Asked Questions (FAQ)
PROs of Using a Full-Face Snorkeling Mask
✔️ 1. Natural breathing

While using a full-face mask you can inhale and exhale through either your nose or your mouth. The natural breathing helps keep you calmer and more relaxed in the water.

There is also no learning curve or getting comfortable breathing through the snorkel, which is great for beginners.

✔️ 2. Water barrier

These masks seal around your entire face, which decreases the chance of water getting in when you smile!

A mustache is also not a problem if you choose a full-face snorkeling mask.

Finally, the rear strap holds the mask in place on your head, allowing you to move freely and take on waves without losing it.

✔️ 3. Built-in dry top snorkel system

Although there are many conventional snorkels offering a similar feature, high-quality full-face snorkeling masks take it to a whole new level.

In addition to a standard ball float system that stops the water from entering the tube when submerged, full-face masks are designed in such a way that even if a small amount of water does get into the snorkel, it will be channeled away from the face and into the chin area of the mask.

A special valve located on the bottom of the chin allows then to drain the water out.

✔️ 4. Anti-fog breathing circulation

High-quality full-face masks don't get foggy as easily as regular masks do. They feature a dual vent system that allows the air to circulate inside, preventing fogging.

✔️ 5. No jaw fatigue

Since the majority of full-face masks don't have a mouthpiece that you need to bite onto, snorkeling for an extended period of time becomes more comfortable. This is especially true if you have issues with sore jaws or mouth from holding onto the snorkel.

✔️ 6. Better visibility

Most full-face mask models offer a curved lens that extends behind your eye and provides a clear uninterrupted 180-degree view. The frame seals behind your vision line, which means that it won't alter your view.

✔️ 7. Prescription lenses compatibility (option)

You can combine your prescription lenses with some full-face models, like Ocean Reef Aria. This allows you to have a snorkeling mask in which you can see clearly and an option to have an extra pair of prescription lenses that can be used separately.
CONs of a Full-Face Mask
❌ 1. You cannot freedive wearing a full-face snorkeling mask

A full-face snorkeling mask restricts the access to your nose, so you are unable to equalize the pressure in your ears that increases as you dive down.

What's more, during the descent, a large volume of air in the mask creates a strong pressure on your face. While with the traditional mask you can relieve the pressure by breathing out through your nose, this is impossible with the full-face one.

So, if you like to freedive to get a closer look at the reef and sea creatures, this type of mask is not the best option for you.

❌ 2. The plastic lens can be easily scratched

In order to avoid the nasty scratches on your mask, you must be very careful about how you pack, travel and care for it. It is preferred that you always carry your mask in a special bag and never let it get sandy.

❌ 3. Full-face snorkel masks are larger and bulkier than the traditional ones

A full-face mask will take up more space in your luggage and prove more challenging to pack for travel.

❌ 4. For casual snorkeling only, not for exercise

Due to the potential risk of CO2 build-up, full-face snorkeling masks are recommended to use only for casual snorkeling in calm water. Exercising or swimming in a current leads to faster and shorter breaths which increases the chance of rebreathing the exhaled air.

❌ 5. The mask may be hard to fit

A full-face mask for snorkeling has a silicone skirt that covers the entire face, which means it should fit the shape and size of your face perfectly, or else the water will get in.

Additionally, another seal around your nose and mouth should also fit snugly, or it could cause the air to flow inside the first section of a mask instead of the snorkel.

❌ 6. Users don't learn basic mask and snorkel skills

Full-face masks are super easy to use and don't require any special knowledge or training, which is great for beginner snorkelers.

However, this also means that a snorkeler doesn't develop such simple but crucial skills as mask and snorkel clearing. For this reason, a snorkeler who has only been using full-face models and has not acquired the necessary snorkeling skills can feel extremely uncomfortable and start panicking if water floods the mask.

So, remember, regardless of what gear you choose, it is essential that you learn to use it properly and know how to act in case something goes wrong.
Safety Concerns
Are Full-Face Snorkeling Masks Dangerous?

Some users have voiced concerns regarding the safety of full-face snorkeling masks. The argument is that due to the large dead airspace in the mask and tube, there could be a buildup of carbon dioxide (CO2) within. This could lead to the user becoming disoriented, weaker, and possibly blacking out.

In regards to this, it is worth noting that some manufacturers specify that their masks are "Not designed to be used for exercise!", but for casual snorkeling only.

They do warn that you will not be able to get enough oxygen if you wear one while exercising intensely enough to need to breathe through your mouth.

Ocean Reef® have recently come up with an official document on full face snorkeling masks (FFSM) safety. It tells about the cause of CO2 buildup in a mask and what distinguishes a reliable and safe FFSM from a poor and dodgy one.
"As one of the few American companies producing FFSMs, we want to share our knowledge related to FFSM safety, specifically related to potential risks concerning CO2. Our hope is to help educate consumers and communicate that when properly designed, manufactured, tested, and used, FFSMs are safe for recreational snorkeling use." | OCEAN REEF®
What This Means to You as a FFSM User
Of course, snorkeling, swimming, and any other activity involving the ocean includes an element of risk and using a poorly designed full-face mask, or for that matter, any low-quality equipment can contribute to that risk.

To sum up everything mentioned above:

1. With full-face snorkeling masks, there is virtually no learning curve, which makes them great for beginners. That being said, it can also create a false sense of security. If the snorkeler doesn't learn proper mask and snorkel skills, and their FFSM starts leaking or they experience any other issues, it may become a nasty surprise that they don't know how to deal with.

2. Many snorkelers find a FFSM more comfortable as it protects their entire face from water, it can be compatible with prescription lenses, it provides a better view, it is easier to breathe in, and there is no jaw fatigue from biting onto a mouthpiece.

3. These masks are not for freediving, nor skin diving. It is also recommended not to exercise or snorkel in a current, which means the choice of activities you can do with FFSM is limited.

4. FFSMs are bulkier than traditional masks, so it may be a little harder to transport them. And they also have easily scratched plastic lenses.

5. There is a number of manufacturers that have put a lot of time and hard work into designing and testing full-face snorkeling masks. However, because of their success, there have appeared a large number of poor-quality copies developed with no technical background or knowledge. These can not only take the pleasure out of snorkeling but even prove to be dangerous.

So, the best thing you can do is choose high-quality and reliable gear from reputable manufacturers and learn how to use it correctly.
Top Reliable Full-Face Snorkeling Masks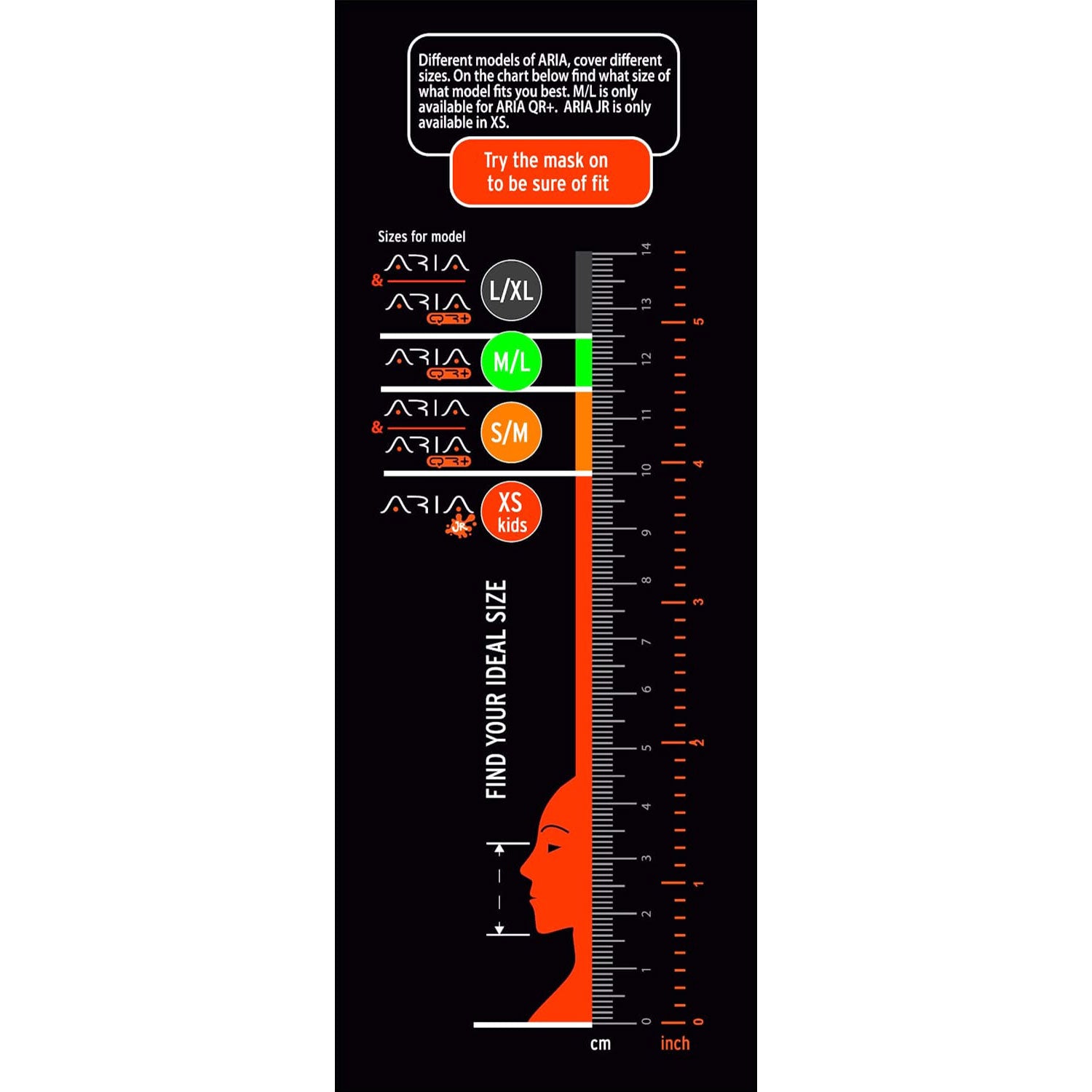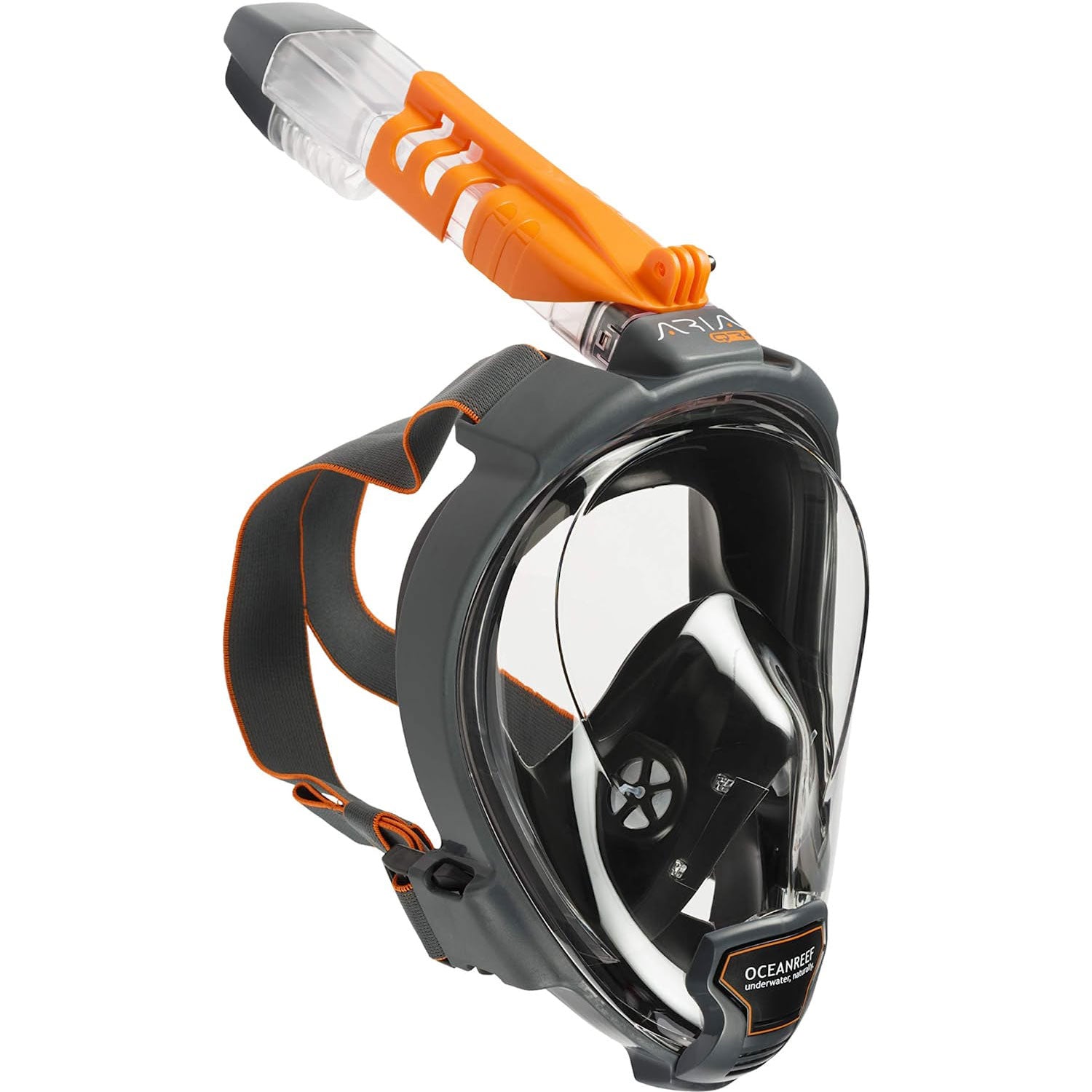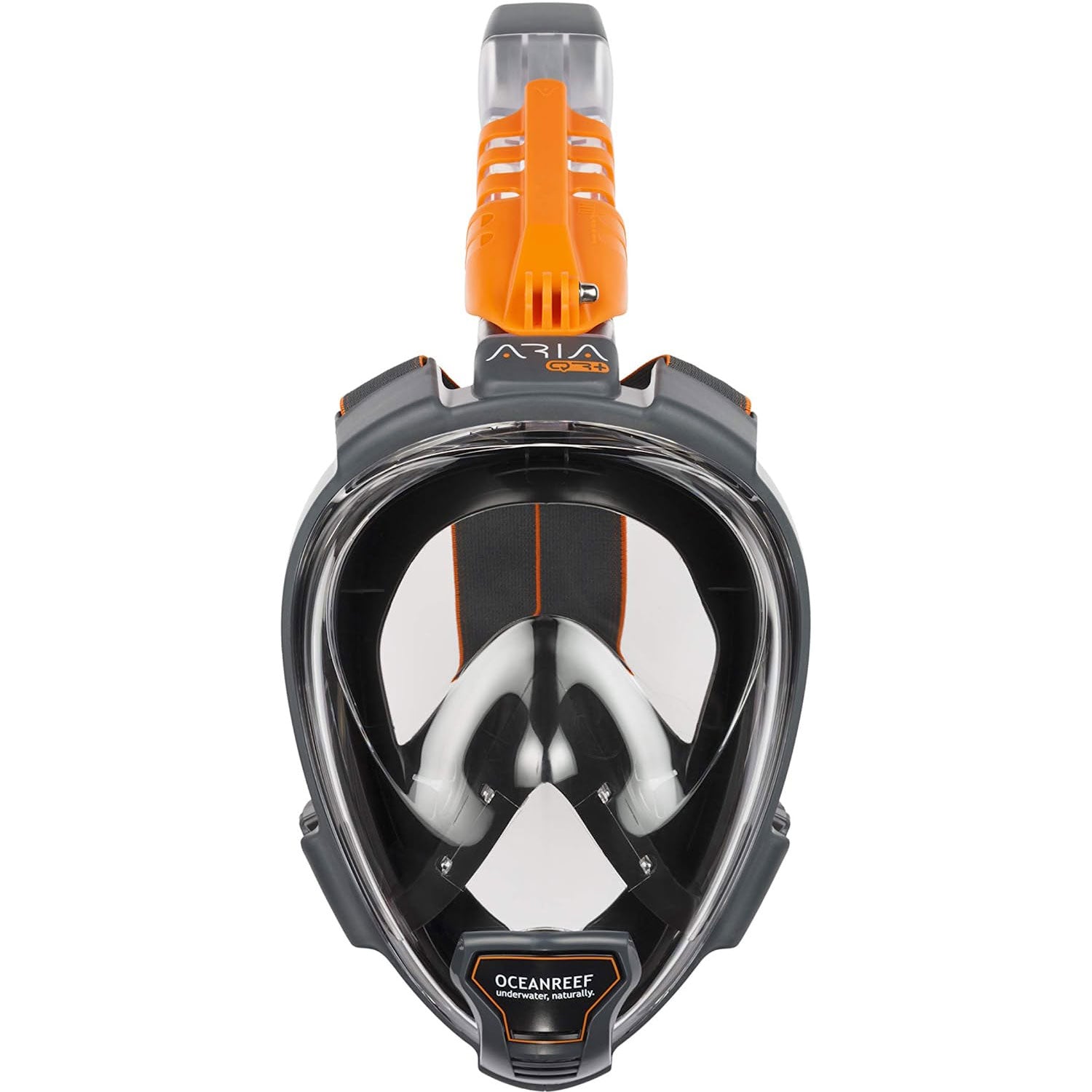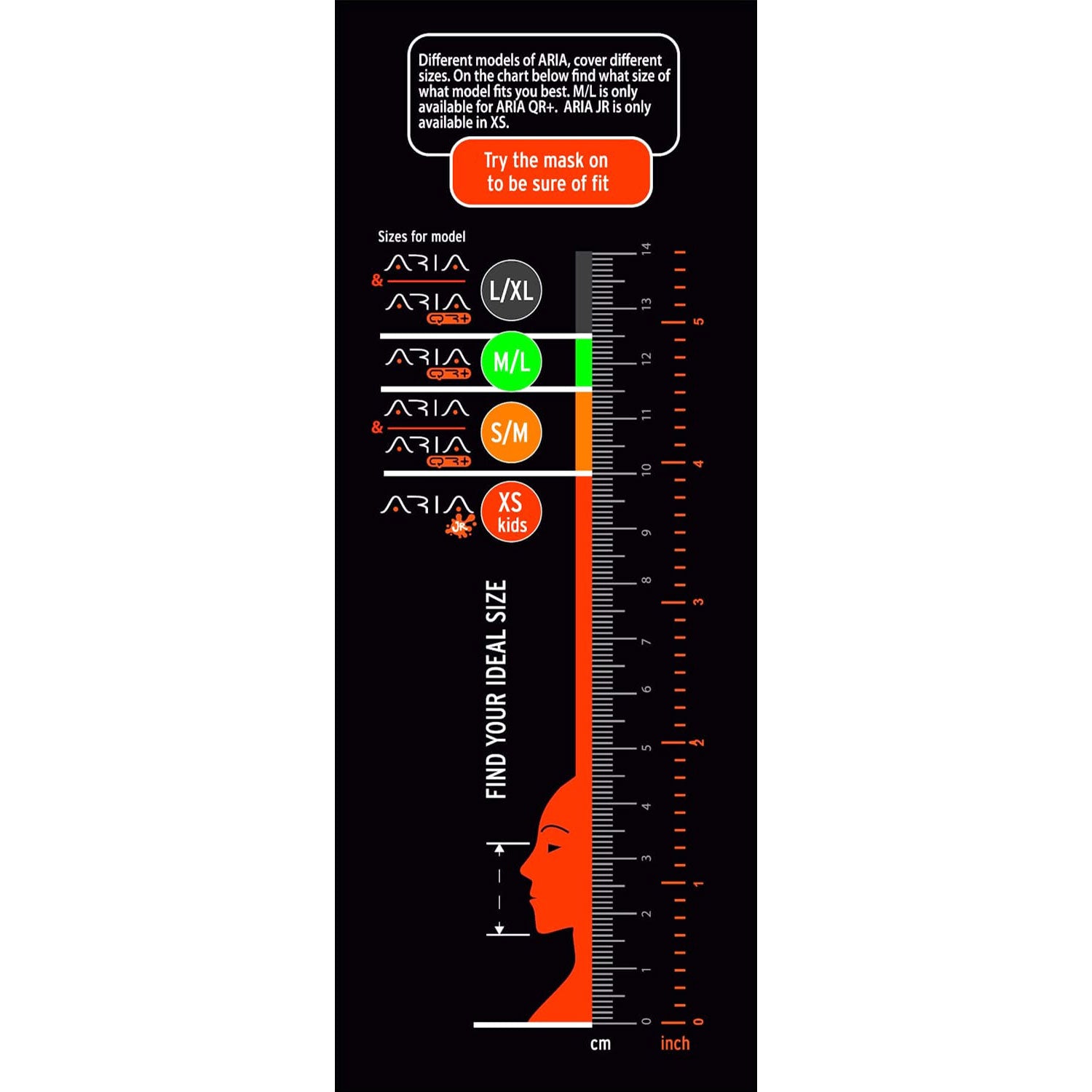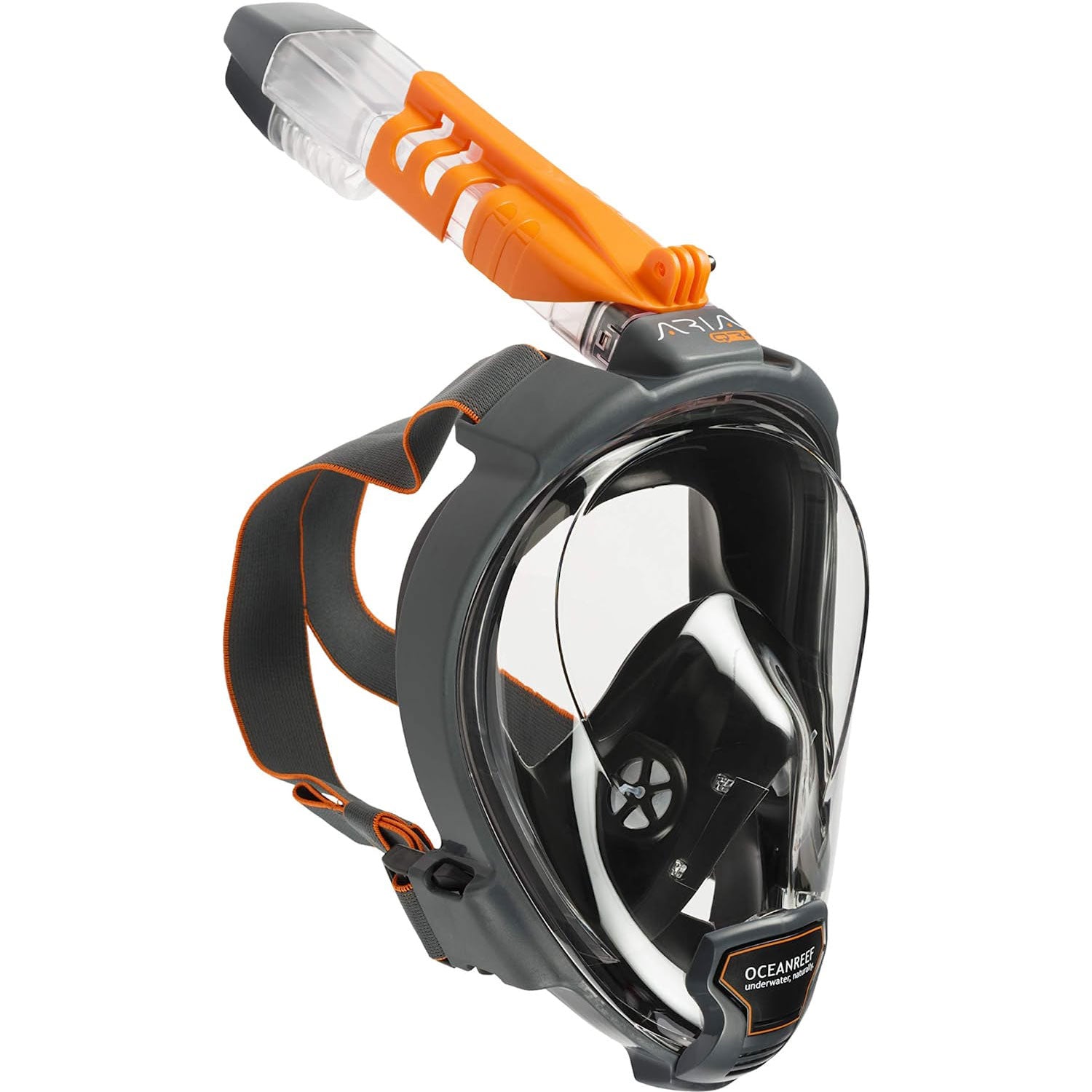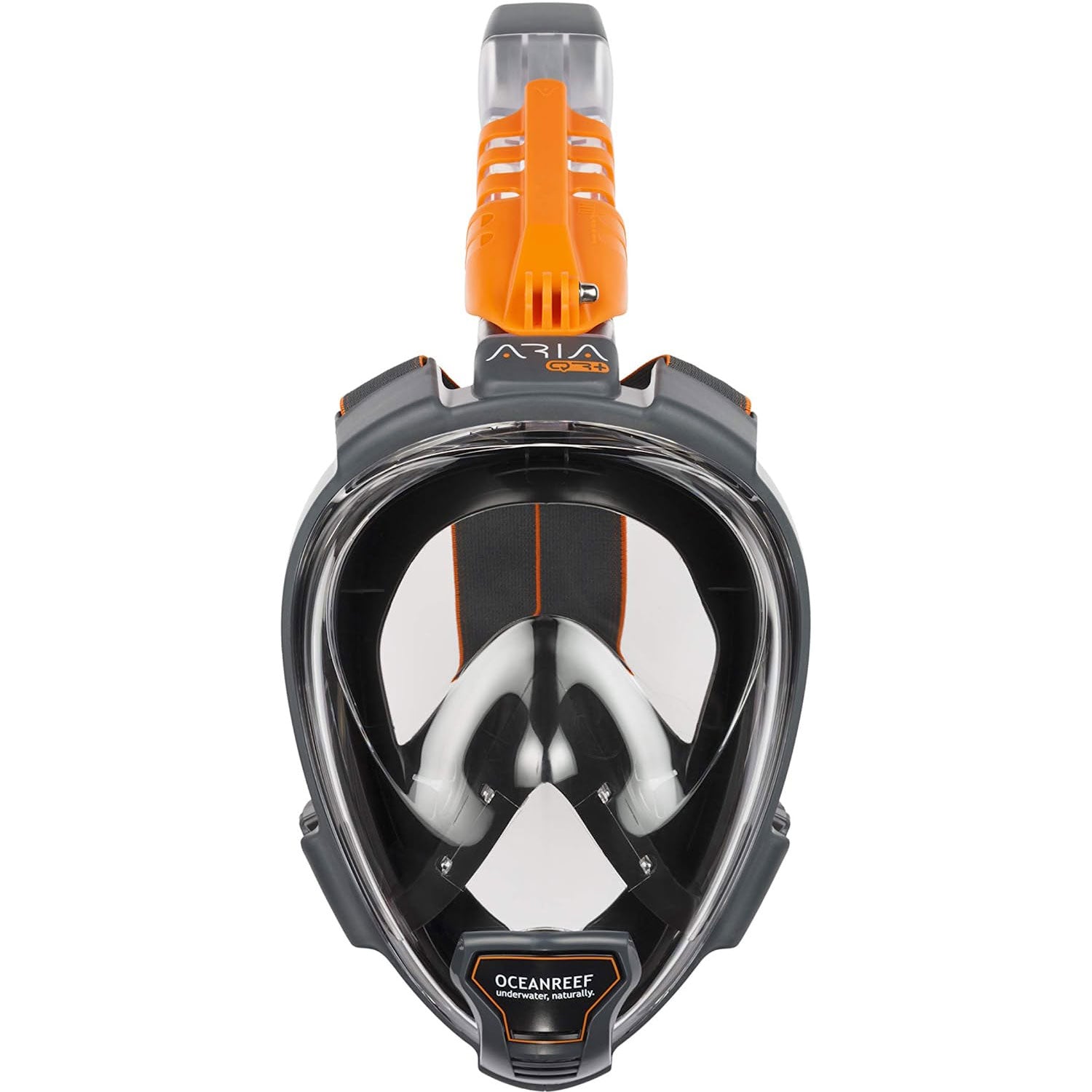 BEST FOR:
- Top Vision (angle & options)
- GoPro / Camera Compatible

✔️ Largest field of view on the market;

✔️ No fogging thanks to the one-way air circulation system;

✔️ Wide range of accessories (Camera Support

included

);

✔️ Optical lens support (sold separately);
OCEAN REEF was the first to design a FFSM and has brought its 25 year knowledge in the scuba full-face mask industry to the table, when engineering its products.

Ocean Reef Aria QR+ full-face snorkeling mask provides 180-degree vision with no fog obstruction thanks to a well structured and fully tested one-way air circulation system.

The mask is compatible with a range of accessories like:
- Optical Lens Kit,
- Snorkie Talkie,
- Surface Unit for Snorkie Talkie,
etc.

What makes this mask perfect is that all seals are made from black silicone, which reduces incoming surface glare for a more enjoyable visual experience.

For your extra comfort during transportation and after use, Ocean Reef Aria QR+ comes with a reusable carry bag with a mesh bottom.
Top Brand + Product PROs:
Air circulation system is

patented

. You always breathe Fresh air.

Independently tested

(each product) to ensure safety and comfort. No CO2 build up.

New Italian design & manufacturing.

Quick release

buckle feature. Buckles adjust to head size for optimal fit & hold.
A range of

accessories

available.

Dark face seal

to avoid glare.

Camera holder

&

reusable carry bag

included.
See Product Page
The first Cressi mask, the Sirena, was handcrafted in 1943. It remained in the catalog, with various updates, for more than 30 years.

The Baron is the version of Duke (see #4 on this TOP list) with a different pack (cardboard box instead of the reusable bag) and a more simplified aesthetic, but with identical features that differentiate it from other masks on the market.

The air circulation in Baron is clearly superior to most other full face snorkeling masks available today. The FFSM was tested in the laboratory of the Engineering Department of the Milan Polytechnic, where the results exceeded all expectations.

Cressi Baron is a full-face snorkeling mask for an affordable price designed with extremely high-quality materials and technology, allowing the user to breathe easily.

Its visual field is 30% larger than average full-face masks' providing a better view of the underwater.

The mask also features the new air baffle that completely eliminates fogging. It has special safety purging valves and a dry-top snorkel system to reduce the chance of water leaking inside.
Top Product PROs:
30% larger

viewing area.

The patented

design for

effortless and natural breathing

.
The face skirt is made of soft

hypoallergenic silicone

for comfort and perfect seal.
The two

x-cross straps

are easy to adapt for a perfect fit for your head.
Frame and lens are made of

polycarbonate

material.
See Product Page
BEST FOR - Most Comfortable Breathing
$99.00
✔️ Seac patented exhaust circuit;

✔️ One-way valves with a larger cross-section for effortless exhalation;

✔️ Smaller internal volume;

✔️ Skirt shape designed to adapt to every kind of facial contour.
All the production batches of Seac full-face masks are tested in their laboratories with specific Ansti machines for measuring the dynamic performance of human respiration.

These tests are carried out using proprietary Seac equipment which has been specifically developed to control the levels of CO2 present in the air inhaled through the masks during the breathing process.

Seac has developed a series of tests in compliance with the values required by the top European standards.

Seac Libera has completely separate circuits for fresh air and exhaled air, which means you will not breathe in the same air you've just exhaled. Exhaled air is expelled through a SEAC patented exhaust circuit.

This full-face mask also features an anti-fogging system with the continuous flow of incoming air. Its one-way valves have a slightly larger cross section which provides an effortless exhalation and effective expulsion of residual CO2.

A large anatomical hypoallergenic liquid silicone skirt with a shape designed to adapt to every kind of facial contour ensures the very best seal, safety, and comfort. The Seac Libera mask has a silicone strap with a co-molded colored insert for perfect fixation on the head.

What's more, there are two ways to adjust the strap, both in front and in the lower section. The quick-release buckles allow you to take the mask off instantly for maximum safety.
Top Product PROs:
A full-face panoramic mask that combines the

highest levels of safety, ease of use and style

.

Maximum safety

thanks to laboratory testing with Ansti machines and dedicated equipment to measure breathing performance and control CO2 levels.
The

quick-release buckles

on both sides of the mask allow you to remove Seac Libera with just one hand.
Seac

quality features

: wide panoramic anti-fog screen, patented separate channel breathing system, purge valves, high quality soft hypoallergenic silicone.
See Product Page
Another full-face mask by Cressi, the Duke model features a breathing chamber that is separated from the vision chamber. This gives users multiple benefits such as: easy breathing, no CO2 build-up, and fog-free vision chamber.

All those benefits are possible because of the Cressi Duke's unique design feature, which is a lateral tube position. This advantage is enhanced by the fact that neither the breathing chamber nor the tube have any valves to impede the user's breath.

What's more, the extraction chamber has an enlarged volume in order to allow for optimal CO2 extraction.
Top Product PROs:
Clear view with no fogging

thanks to the

separate breathing and vision chambers that provide constant airflow.

Larger field of vision.

Available with a dark skirt option for an even better view.

Natural breathing through the nose and mouth.

The mask is effortless to use; just breathe naturally while looking at the underwater beauty.

Improved comfort for prolonged use.

The durable elastic strap will not tangle in your hair.

Snorkel with Dry System.

Do not worry about any water trapping in the snorkel.
See Product Page
How to Score Ideal Sizing When Choosing
As we already mentioned above - one of the CONs of a FFSM is that it may be challenging to fit.

So, for you to entirely focus on its benefits during snorkeling, your mask should be the correct size. In this video you'll learn how to find your ideal size and how to use a full-face model to your benefit.

Enjoy! )
To Sum Up
In conclusion, it is up to you to weigh all the pros and cons of using a full-face snorkeling mask and decide if you want to give it a try or stick with a classic mask and snorkel combo. The most important thing, after all, is your comfort in the water.

If you have any thoughts you'd like to share related to full-face masks, leave a comment! We wish you fun and safe snorkeling adventures!
Frequently Asked Questions (FAQ)