Getting Ready for Dive Season
The spring is finally rolling around, and for many, it marks the beginning of a new dive season. Unless you live in a tropical climate or enjoy cold water diving, it has probably been a few months since your last dive, which means that both your gear and skills may have gotten rusty over the winter. So, here are some useful tips to help you prepare for the upcoming scuba season and make sure that everything is ready for you to get into the water.
Prepare Your Kit
1. Perform a visual inspection of all items. Make sure to carefully check your gear for any issues or damage. In particular, take a look at the following:
Inspect the condition of all hoses and O-rings on your regulator, pull back on the hose protectors to ensure that they haven't started cracking.

Examine the bite tabs on the regulator mouthpiece, verify their integrity.

Check all zippers on your BCD, wetsuit and/or drysuit, add some lubricant if they are hard to zip.

Check dive knives for rust and re-lubricate them as well.

Check dive lights for batteries and to ensure the bulbs are still working.
Read more about how to inspect and assemble your gear in our pre-dive equipment check and setup guide.
2. Bring your gear in for service, if needed. Consult your gear service log, and see, if any of your gear needs to be inspected or serviced. Remember, tanks should be inspected at least once a year, and hydrostatically tested every 5 years. Regulators and BCs should also be annually serviced. The technician should check for any leaks and make sure that the inflator and all deflate valves on your BCD are working properly. This will allow you to rest assured that your gear is in top working order for the new season. Consider having your gear serviced earlier in the spring, as the service departments are not very crowded yet. Here is some more info about gear inspection and service.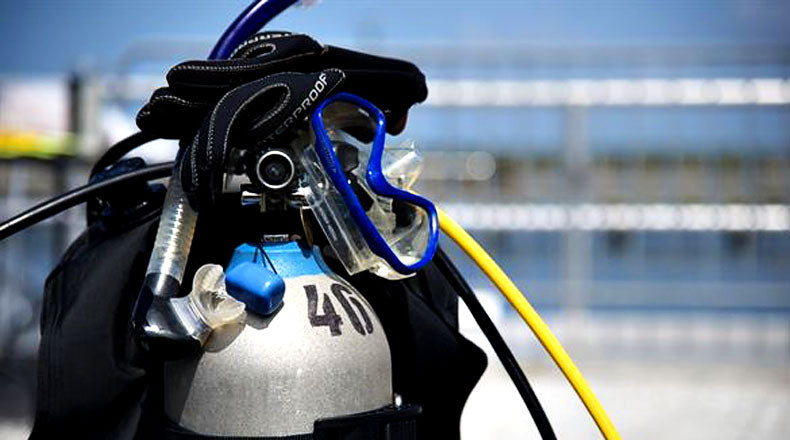 Here is some more info about gear inspection and service.

3. Make sure that your wetsuit and wetsuit accessories still fit. Don't forget to try on your wetsuit beforehand, otherwise you may show up for a dive and suddenly discover that it is either too small or too big. Also check the material for any tears or rips. The earlier you do this, the more time you will have to fix your suit or go wetsuit shopping.

4. Check your drysuit for signs of wear and tear. For those diving dry, it is a good idea to make sure that your suit has no leaks and that the seals are all intact.
Refresh Your Skills
1. Get a health and fitness assessment. Diving can be quite a workout. Although you do not necessarily have to be in Iron Man shape, it is important that your legs, glutes and core are ready for the challenge. Remember, straining yourself too much during the dive can lead to overexertion, struggle to breathe and even panic. Also, consider the effect of some age-related changes and medical conditions, such as a cardiovascular disease. If you are over 50, have high blood pressure, diabetes, high cholesterol, or family members with heart disease, it is a good idea to be assessed by your doctor before going diving. Finally, if you have recently had any injuries or health issues that may affect your ability to dive, you should consult a medical professional to give you the green light.
A few tips on how to get in shape for the dive season.

2. Do a refresher dive. An effective way to brush up your basic scuba skills is to go for an easy dive at a well-known location or in the swimming pool. You can also check you local dive shop for a refresher clinic. This will give you a chance to both test your equipment in real life and practice some drills from your entry level course. Here are a few ideas on what you may want to do.
Take time to practice your gear assembly and make sure you get all the details right;

Work on buoyancy control. Consider doing a few basic buoyancy exercises, such as a fin pivot and a stationary hover;

Brush up your finning techniques;

Practice your mask skills;

Go over emergency procedures.
3. Take a refresher course. If you're still feeling rusty, you can also consider taking a refresher course and practice your dive skills with a qualified instructor.

4. Start arranging any dives that you are thinking of doing. Waiting until the last minute usually does not end well when it comes to planning your next dive activity. Make sure that any dive trips that you wish to go on are booked well in advance.

Hopefully, these simple tips will help you make the first dives of the season safe and enjoyable.