Summer 2018 Divers Digest
The fall is upon us, but before we say goodbye to the summer, let's take a moment to look back at some of the most exciting stories that took place during this amazing fun-filled season.

In this digest we'll recall:
New freediving world records;

A record-size artificial reef in Australia;

Hawaii sunscreen ban;

A tiny new species of pygmy seahorse;


Novo Amor's music video for "Birthplace".
This season was incredibly memorable for freediving enthusiasts around the globe, as it brought an unprecedented number of new world records.

In the Pool World Championships, Magdalena Solich-Talanda from Poland has set a new DYN record with her incredible 243 m dive, smashing the previous record of 237 m held by the late Natalia Molchanova.

As for the depth disciplines, the OriginECN Vertical Blue competition has concluded in a truly spectacular style - a total of 10 World Records have been set during the 9 days of the event. No other freediving competition has seen such a number of records.

You can see all the records set, in date and time order, during the competition below:
Alexey Molchanov (Russia) – Day 3 – Constant Weight (CWT) – 130m

Alessia Zecchini (Italy) – Day 4 – Free Immersion (FIM) – 93m

Alenka Artnik (Slovenia) – Day 5 – Constant Weight (CWT) – 105m

Alessia Zecchini (Italy) – Day 6 – Constant Weight No-Fins (CNF) – 73m


Sayuri Kinoshita (Japan) – Day 7 – Free Immersion (FIM) – 94m

Alexey Molchanov (Russia) – Day 7 – Free Immersion (FIM) – 125m

Alessia Zecchini (Italy) – Day 8 – Free Immersion (FIM) – 96m

Hanako Hirose (Japan) – Day 8 – Constant Weight (CWT) – 106m

Sayuri Kinoshita (Japan) – Day 9 – Free Immersion (FIM) – 97m

Alessia Zecchini (Italy) – Day 9 – Constant Weight (CWT) – 107m
Speaking of records, Australia has established the largest purpose-built reef habitat in the Southern Hemisphere. The new reef, called King Reef, is located 3.5 nautical miles north of Exmouth in Western Australia. It comprises 58 concrete and steel modules ranging in height from 1 to 10 meters (33 feet) laid out across two acres of ocean floor at a depth of 18 meters (60 feet). These structures will provide a habitat volume equal to that of 11 Olympic-size swimming pools. The reef is also expected to attract fishers, recreational divers and citizen scientists, and is readily accessible from local boat ramps.
Hawaii has also made a major step forward in reef and ocean conservation. It has become the first U.S. state to ban the sale and distribution of sunscreens containing oxybenzone and octinoxate, the chemicals proven to cause damage to coral reefs.

The new bill prohibits the sale and distribution of any sunscreen containing these two chemicals without a medical prescription. It does not, however, stop visitors from bringing sunscreens to Hawaii that contain those ingredients. It is up to each individual to look for reef-safe sunscreen and follow Hawaii's great example.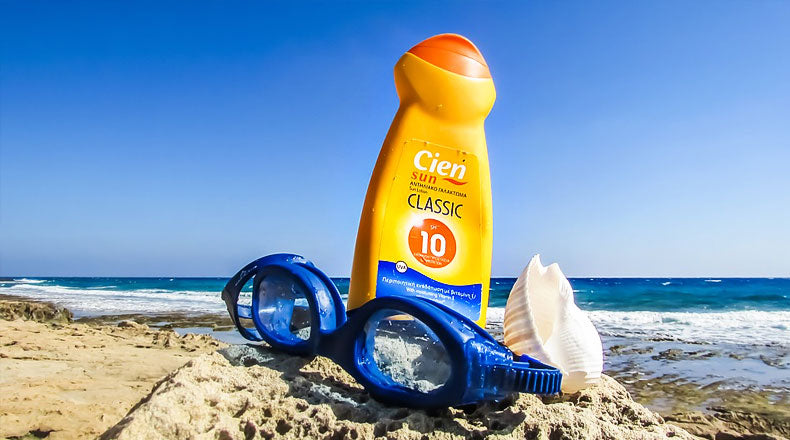 You can read more about the importance of using reef-safe sunscreen in this article
Moving on, a new species of pygmy seahorse was discovered off the coast of Japan. Named Hippocampus japapigu, or the "Japan pig", these creatures grow only the size of a grain of rice and possess beautiful colors that help them camouflage as little bits of floating seaweed.

Although the Japan pigs have been observed by divers for several years, it wasn't until recently that the researchers began to study them and realized the little sea equines were actually unique to the six other known species of pygmy seahorse. The Hippocampus japapigu have a distinctive pattern and an odd ridge of bone on the upper back. They also live in quite an unusual habitat for seahorses. The shallow waters of Hachijo-Jima Island fluctuate in temperature depending on the season, something most seahorses don't like. In fact, they were found at only 10-11 meters (33-36 feet), when most pygmy seahorses prefer much deeper water.

You can take a look at these charming creatures in the video below.
Finally, let's look one of the most impressive ocean related videos of this season - a clip for the "Birthplace", which is the title track from the debut album of Welsh multi-instrumentalist, singer, songwriter and producer Novo Amor.

The video, written and directed by Sil van der Woerd and Jorik Dozy, highlights the monolithic problem of plastic in our oceans and was shot in Komodo and Bali, Indonesia.
The diver in the video is a noted professional freediver Michael Board, who performed around 250 freedives to capture the footage, along with the crew who spent around 35 hours underwater in total. Board appears alongside a 13-metre bamboo humpback whale sculpture, covered in plastic that was collected by local children in return for school books as part of an environmental initiative started by a local primary school.

All in all, the video sends an incredibly powerful and poignant message about the effect humans are having on the natural world.

In case you have missed some of those, here are the most popular articles of this summer from our blog. Enjoy!